We Offer Different Ways To Donate
In 2022 we celebrated an amazing 10 years! While we started out as a crisis pregnancy center, we have evolved into so much more over the last decade. Our programs and services have an appreciation for life that extends beyond a pregnancy and birth. We have taken on a whole-family approach and serve the mother, father, and child (no matter the age) through education, community groups, children's programming, material assistance, goal-setting, medical services and more. However, the success of Helping Hands does not only come from the staff, the board of directors, or our volunteers, but from our community as a whole, from the individuals, the churches, the businesses, the non-profits in this community, and YOU.
Your financial gift does make a difference, as it helps us to facilitate change in the at-risk families in our local communities by providing all services and programs for FREE. Your gift moves this work and ministry forward. Together, we make a difference, together, we are stronger.


3 WAYS TO GIVE
WRITE A CHECK
We receive 100% of the funds. This can be done monthly or as a one-time gift.

PLEASE MAIL CHECKS TO:
Helping Hands
116 East Dustman Road, Suite B
Bluffton, IN 46714
BANK WITHDRAWAL
Give monthly by setting up an automatic bank withdrawal. We are only charged $0.30 per donation. Payments are processed on the first of the month. We can take this information over the phone at 260-824-4263 or click the button below.
Bank Withdrawal
CREDIT CARD
Charge your monthly donation to a Credit Card. We incur a 3% fee for each transaction.
Credit Card
Why be a Monthly Donor?
When you become a monthly donor, you partner with us in the day-to-day operations, helping us to confidently and consistently meet operational costs. This allows us to have a greater focus on community outreach, enhancing and growing our programs, adding new medical services, and more. While the programs and services we offer are free to our clients, there is still a cost for Helping Hands when it comes to materials, time, and operation. Here is a breakdown of what your monthly donation may provide!
A monthly donation of $10 over the course of a year (totaling $120) will cover a MomTime class.
A monthly donation of $12.50 over the course of a year (totaling $150) will provide Childbirth Education for a mother.
A monthly donation of $16 over the course of a year (totaling $185) will cover a Hand in Hand class.
A monthly donation of $25 will provide a pregnancy test or a Safe Sleep course.
A monthly donation of $36 over the course of a year (totaling $430) will cover the cost for a Quit Date course.
A monthly donation of $50 will provide an ultrasound.
A monthly donation of $80 over the course of a year (totaling $960) will cover the cost of one child in our Hand in Hand program for PiP.
A monthly donation of $85 will cover the cost of a family engaging in Family Life Group.
A monthly donation of $100 will provide a Man2Man class.
A monthly donation of $100 over the course of a year (totaling $1,200) will cover one-on-one's for one adult for an entire year.
A monthly donation of $130 over the course of a year (totaling $1,550) will put one adult through Parenting in Progress.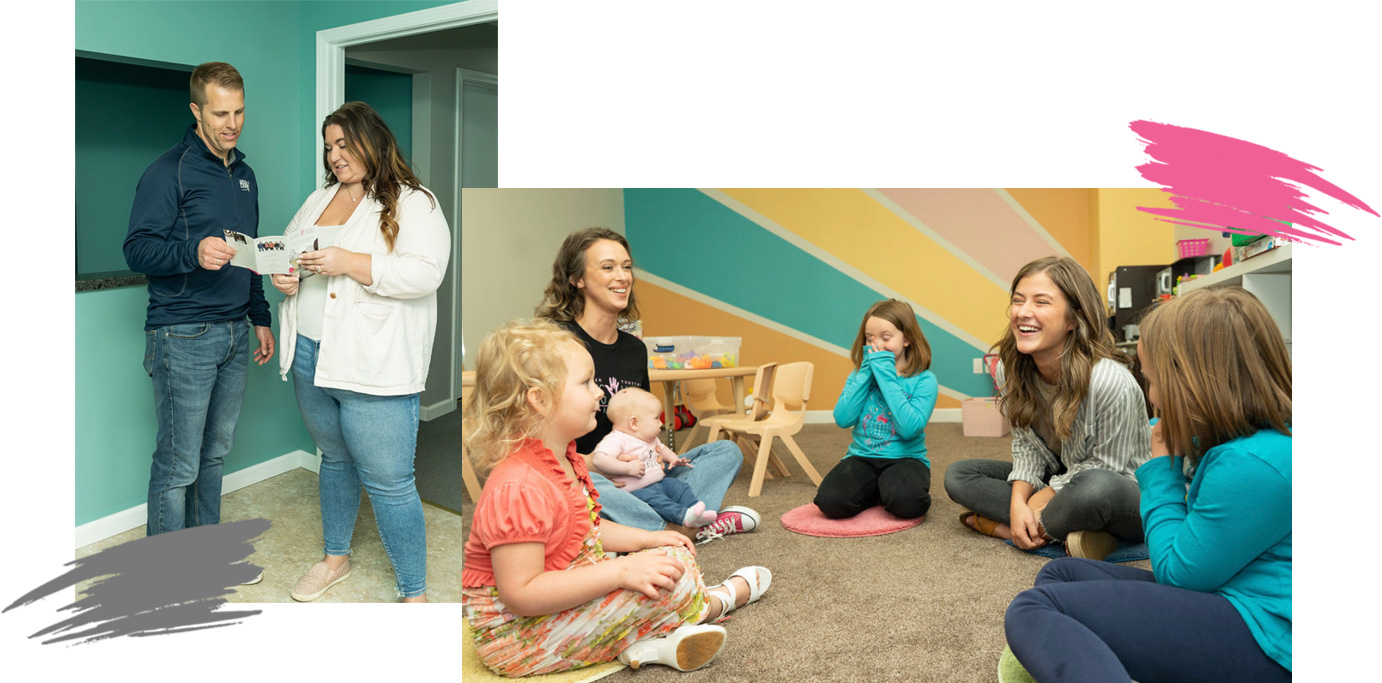 Other Ways To Donate


Gifts In A Will
Your legacy could be helping break the generational cycle of neglect and abuse!
Gifts in a will or by beneficiary designation are two easy ways to make a life changing difference in the future of our communities families — and they don't cost anything now. Making a legacy gift in your will or trust is one of the easiest and most popular ways to make a lasting impact for Helping Hands and our mission in our community. Once you have provided for your loved ones, we hope you will consider helping create stronger and healthier families as a part of your life story through a legacy gift. Please let us know if you've included a gift for Helping Hands in your will or through a beneficiary designation. Providing us with documentation is the best way to ensure that your gift is used in the way you intend.
LASTING IMPACT
Your gift will create your legacy of helping children break free from poverty.
FLEXIBLE
You can alter your gift or change your mind at any time and for any reason.
NO COST
Costs you nothing now to give in this way.
Charitable Remainder Trusts
A Charitable Remainder Trust (CRT) is a tax-free trust that pays you and/or other beneficiaries an annual distribution. This payment is either a percentage of the annual value of the trust, or a percentage of the original gift amount.
HOW IT WORKS:
You transfer cash or an appreciated asset* into an irrevocable trust.
The trustee then sells the asset, paying no capital gains tax, and reinvests the proceeds.
For the rest of your life (or a term of years), you and/or another beneficiary receive payments from the trust.
After your lifetime, the remaining principal is used to support the mission of Helping Hands.
* While donating real estate is the most common way to fund a charitable trust, a wide variety of assets can be used, including cash, appreciated publicly traded or closely held stock, as well as oil, gas or mineral interests.
BENEFITS TO YOU INCLUDE:
You receive income for life for you or your heirs.
You receive a charitable income tax credit for the charitable portion of the trust.
You create your legacy of caring for the families in your local community.
Stocks and Securities
When you give stock or securities (stock, bonds, mutual funds), you may be eligible for a double tax benefit:
You receive an income tax deduction for the full, present, fair market value of the assets and
You may completely avoid capital gains tax on the appreciation of the assets. This is one of the easiest gifts to give and one of the most useful in accomplishing your philanthropic goals.
Retirement Assets
A gift of your retirement assets, such as an employee retirement plan, IRA, or tax-sheltered annuity, is an excellent way to make a gift. A gift of these assets can shield you or your heirs from taxes while funding the mission of Helping Hands.
Life Insurance
Transfer ownership now:
To make an impact on our mission today, irrevocably designate Helping Hands as owner and beneficiary of an existing life insurance policy. If your policy is paid up, you will receive an immediate income tax deduction based on the policy value.
If your policy is not yet paid up, you will make contributions of cash to Helping Hands to cover future premium payments. For any continuing premium payments you make, you will receive a charitable deduction in the year of the payment.
Name us as a beneficiary:
You can name Helping Hands as a beneficiary of all or a portion of your life insurance policy. With this gift arrangement, Helping Hands will receive the proceeds of your policy when you pass away. You can change your beneficiary at any time.
This gift is easy to arrange — simply request a beneficiary designation form from your plan administrator.
Personal Property
A gift of artwork, coins, antiques, or other personal property can be an excellent way to support Helping Hands. The tax benefits of the gift depend on whether Helping Hands can use the property in a way that is related to its mission. Contact us to learn more about this type of gift — we would be happy to help you find the option that best fits your philanthropic goals.
Kroger Community Rewards
When you enroll in Kroger's Community Rewards program, all you have to do is shop at Kroger and swipe your Plus Card, and Kroger gives a small percentage of your purchase back to Helping Hands!  Choose Helping Hands Pregnancy Resource Center as your charity, Organization No. IP807. Register at https://www.kroger.com/i/community/community-rewards
AmazonSmile
If you register on Smile.Amazon.com with Helping Hands selected as the cause you support and use smile.amazon.com to do your shopping, the AmazonSmile Foundation will make a small donation of a portion of your purchases to Helping Hands! To find Helping Hands, enter our EIN: 45-4998438. Remember, to make sure a portion of your amazon purchases go to Helping Hands, you must shop on smile.amazon.com, not amazon.com. Want to use the mobile app and support Help Hands? Open the Amazon app and find 'Settings' in the main menu (☰). Tap on 'AmazonSmile' and follow the on-screen instructions to turn on AmazonSmile on your phone.
Ways For Businesses To Donate
Specific events a business can sponsor:
100 Women Initiative: An event designed to bring together 100 women to hear the story of a woman local to our community, inspiring and encouraging them to impact other women's stories by becoming a part of the Helping Hands' community. Sponsorships cover the video and program, food and drink, decor and tableware!
Annual Bow Campaign: During the month of April, which is Child Abuse Awareness and Prevention Month, Helping Hands runs our Annual Bow Campaign to represent the number of children placed in the foster care system, due to reasons including child abuse and neglect. Businesses can buy a bow representing the number of years they have been open, or another number that means something to them! We also have $500 bows that businesses can buy to represent their company. 
Baby Bottle Campaign: This campaign runs from Mother's Day to Father's Day, with the idea that people's "change" can create change! Businesses can place a large baby bottle at their counter and encourage customers to put their change in to fill the bottle. At the end of the campaign, Helping Hands has a dumping day to see how much the community has raised!
Disc Golf Tournament: Helping Hands' Annual Disc Golf Tournament is an event for the community to come out and have some fun, eat good food, and play disc golf in Ossian. Businesses have the opportunity to be $100 hole sponsors!
Annual Benefit: Each year Helping Hands hosts our Annual Benefit, a dinner and program to honor and celebrate the Helping Hands' community and all that God has done through our programs and services! Businesses can partner alongside us in this event through a variety of sponsorship levels or donate an item or experience for our silent and live auctions.
Reasons to donate to a charity as a business:
Charitable contributions from businesses to nonprofits can qualify for tax deductions.
Donate to charity because you feel a connection to an organization, not because you want a tax deduction. There's more to charitable giving than receiving tax benefits.
When it comes to the paperwork and tax requirements for charitable contributions, it's often easiest to speak with a tax advisor.
Ways to donate to charity as a business:
There are various ways that a business can donate to charity. Although monetary donations are commonplace, there are other options. The following are a few top ways companies are supporting charitable organizations:
Cash: Sponsor an event or donate throughout the year
Gifts of property or equipment
Volunteer: Instead of a monetary donation, companies can donate their time to a great cause. Volunteer as a company as a team building experience.
Launch a charity drive: Start a collection for Helping Hands. Your company can collect diapers, wipes, formula, clothes, strollers, etc.
Donate online: Set up automatic donations through our website. You could even leave out a collection jar at your place of business and drop it off at our office or cash it in and donate it online.